There are two navigation menus.
Main Navigation Menu
Situated on the left-hand side and provides access to most features.
User Menu
Situated on the top right and provides access to your personal profile, notes and other features depending on the main navigation selection.
Main Navigation Options
Search
Find documents with search filter options.

My Tasks
See a summary of all of your tasks.

My Intrays
Add documents to your Intray and index to DocMX.

Create
Use forms and templates to create documents that index directly into DocMX.

Control Centres
See overviews of entities, departments and daily/nightly reports.

Reports
See customised reports.

Entity
Choose the entity for multi-entity environments.

Search Document ID
Find a specific document using the ID.

Log off
Always log off the system after use, for security purposes.
Main Navigation Expand / Collapse
The menu can be expanded and collapsed using the arrows.
Expand
Collapse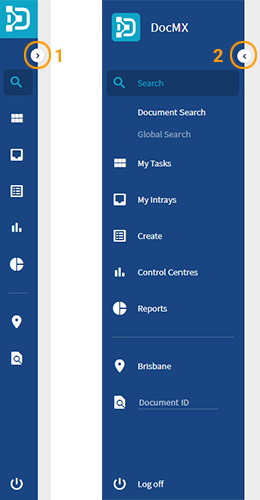 User Menu Options (fixed)
These options are always in view.
User Details
Change personal settings (e.g. email, password).

Notifications
See system notifications and messages.

My Notes
See actionable messages sent to/received from other users.
User Menu Options (other)
These options appear when a main navigation menu option is selected.
Search – Action Button
This button is used after selecting one or more documents in the search results. Change the action from the dropdown list and click the button with the action text.

My Tasks – Refresh
Refresh to see your tasks updated.

My Tasks – All-seeing-eye
This feature is available in a multi-entity environment allowing users to all tasks in all entities. Clicking on it switches the all tasks view on (colour) and off (grey).

My Intrays – Intray Selector
This is available for users who have access to more than one Intray.

Create – Filter
Use the filter to reduce the number of displayed forms and templates.